The '19-20 Mavs Have Not Peaked 📈
Maxi-mizing the Dallas Mavericks.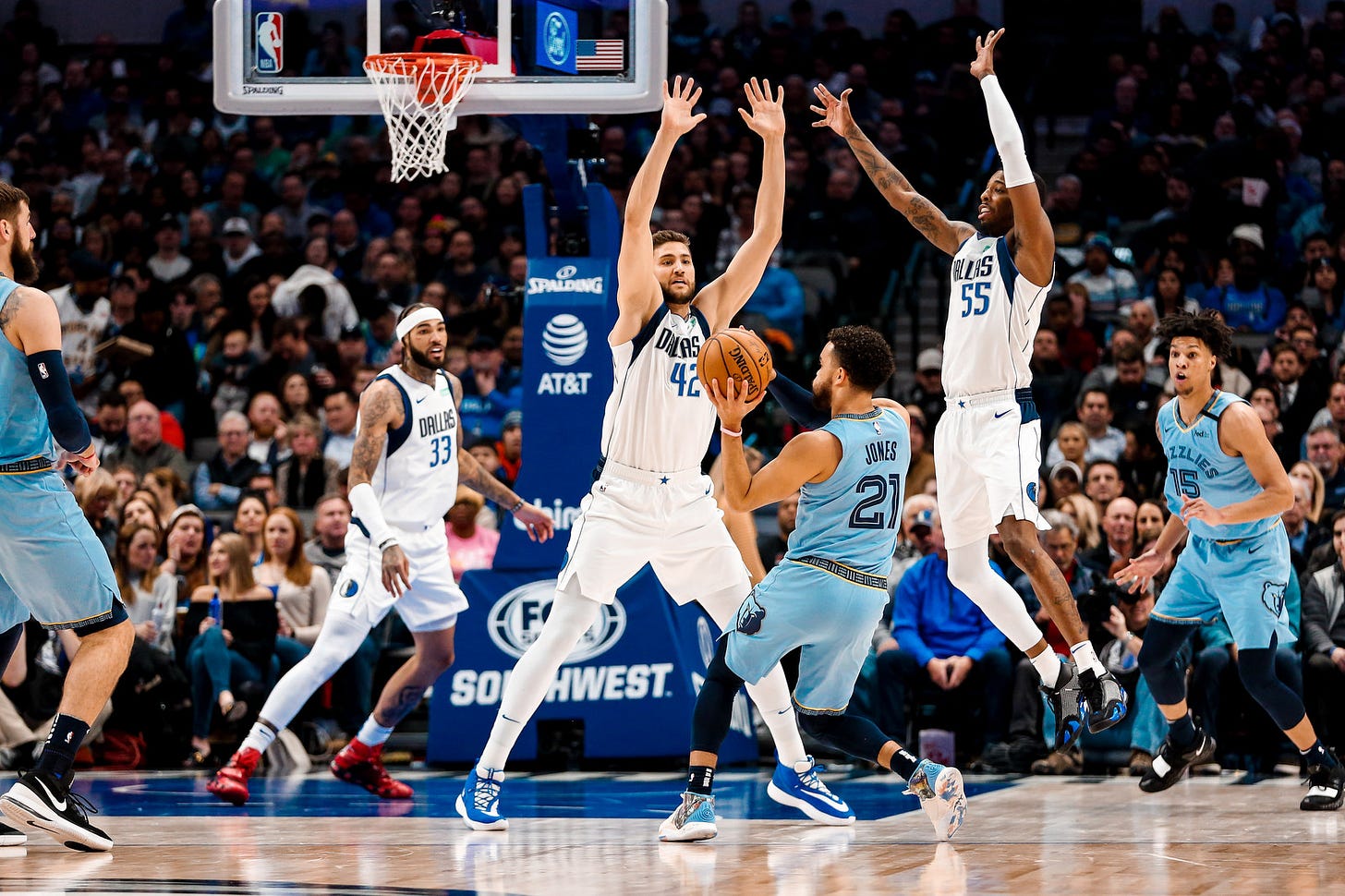 ---
The Sky is Not Falling
Things are not as rosy as they were mid-December for everyone's favorite franchise. After starting the season 17-7, the Mavs have gone 16-15 in their last 31. Yikes.
It should be noted that the team has had a healthy Luka and KP for about 5 of those 31 games. While this doesn't excuse the record altogether, it provides a credible explanation.
Other setbacks have compounded the injuries to their young stars. Many have lamented that January 12th's season-ending achilles injury to Mavericks C Dwight Powell officially marked that the peak of the '19-20 Mavs was behind us.
On the contrary, while the injury bug has put a damper on an otherwise thrilling campaign, I believe—should we experience relative health from our young stars—this season is not lost. Far from it, in fact.
Don't get me wrong, those early-season Mavs were good—really good. But this new Mavs configuration can be a true (albeit low-end) contender, as early as...well, now.
You see, the early-season Mavs were winning as a result of a hyper-charged offense that could blow most teams off the floor. But, the defense was just average. This wasn't a problem unless the offense didn't have it going or the defense was especially porous. You may recall the '14-15 Mavs, led by Dirk and Monta, who had a similar profile.
However, the typical heuristic for whether a team has legs as a contender is whether they can achieve top-10 efficiency on both offense and defense. In total, the Mavs have been respectable—but not contention-level—in team defensive efficiency, hovering between 13th-17th in the NBA for most of the season. The starting defense, in particular, was dragging the overall picture down, with the lineup of THJ/Luka/DFS/KP/Powell having a def rating of 110.9 (A mark that would rank 20th in the league).
This outcome shouldn't have come as a surprise, as the Mavericks starting lineup is lacking plus defenders. DFS is solid, Luka and THJ are fine; with varying strengths and weaknesses. The bigs have more leverage in impacting team defense, and unfortunately that works both ways. Powell was a poor defender at either the 4 or the 5, as a result of both being a subpar rim protector and a poor defender in space. This weighed on the defense, but in no way more important than forcing Porzingis, an elite help shot blocker, into an overextended role anchoring the defense.
In the Dwight Powell injury, I saw a potential silver lining that could be realized by tweaking the starting lineup to what I had identified this summer as the most optimal two-way configuration: moving Maxi Kleber into the starting lineup.
I'm buying up all the real estate on Maxi island before he becomes a household NBA name. It may come as a shock to hear, but I think there is a strong case that:
Maxi Kleber is one of the 75 or so best players in the NBA

Maxi Kleber in one of the 15 or so best defensive players in the NBA
That last part is most important. While fielding the league's best offense, the Mavs have been leaving their best defensive player to come off the bench.
In the 15 games Maxi has started this season, the Mavs are 10-5. For the 30mpg he's on the court, the Mavs outscore opponents by 9.9 pp/100, with an offensive rating of 115.2 (would be 1st in the league), and a defensive rating of 105.3 (would be 3rd in the league).
Despite that, the Mavs have struggled in games the KP and Maxi duo shares the court, only going 20-18. What's more, the Luka/KP/Maxi trio is only 16-11. What gives?
Frankly, I'm chalking this up to sample size. Give this group some time to gel as a starting unit and I am confident it pays dividends. There's nothing structural that prevents them from being a top team on both sides of the ball. In the games where Luka and Maxi play together, the team is 27-15, and their ratings when they share the court are 115.0 (would be 1st in the NBA) on offense and 107.1 (would be 7th) on defense. Further, after KP's early struggles, these combos have been performing much better. Since November 12, the Maxi/Luka duo has ratings splits of 117.4/105.5 and the KP/Luka/Maxi trio, 116.6/105.5.
Smart-money NBA analysts have already staked their claim on Maxi island. He's a favorite of Cole Zwicker, Nate Duncan, Sam Vecenie, and Danny Leroux, among others:
Skyfall (@polarfall), The Stepien
Even though he wouldn't go all the way there with me this summer 😜
Marveling at Maxi: Breaking down Kleber's unusual, essential game
I'm not the biggest fan of catch-all stats, but 538's DRAYMOND model placed him as the 5th best defender of last year, and their RAPTOR rankings had him as their 11th best defensive player. DBPM and DPIPM both had him at 23rd.
Below is an analytical run down of the best defensive power forwards from 18-19, which, to the surprise of the author, spit out Maxi as #1.
The guy is a budget Al Horford, yet for over half a season we hear quips, even from Mavs fans, about how the Mavs only have 2 starter-level guys on the roster. I won't stand for the slander any longer. Let's dive into what a prioritization of Maxi could bring for this team.
---
🏀 Defense
Lately, this team has been bad defensively. Bad, I tell you. Even Maxi. They have been direly missing Luka's defensive rebounding, among other things.
However, when healthy, this team is capable of achieving a top 10 defensive efficiency rating.
Statistically, the Mavs defense is just much better with Kleber on the floor. Maxi has the 3rd highest on/off improvement for a team's defensive rating amongst bigs (>24mpg, >40 games)
Joel Embiid +5.2
Giannis Antetokounmpo +3.7
Maxi Kleber +3.2
Rudy Gobert +2.4
(Fun fact: Zion is +11.4 so far 🙃)
While most of these players improve otherwise good-to-average defenses, Kleber is the only player in the NBA to bring a team from a bottom-10 defensive rating pace with him off to a top-10 defensive rating pace with him on—and he's done this feat for 2 consecutive seasons. Standing alone amongst NBA players propping up bad defenses over multiple seasons.
What have I learned from countless hours studying Maxi's defense? His elite positioning and his ability to cover multiple positions are the lynchpin to his success, but he's underrated because those are things that often go unnoticed to the average viewer.
Kleber has exceptional defensive versatility, drawing the peculiar distinction of being probably our best perimeter defender (except against the quickest small guards) and our best defensive anchor. Per Synergy, Maxi rates as an 'excellent' overall defender, giving up .853 points per possession (83rd percentile). He does this by maintaining an above-average mark in essentially every play-type.

Of the 3.7 3-pointers he defends per game, opponents are hitting just 26.7%, a full 10% below their collective average. On top of that, he's been a capable rim protector, holding opponents to 54% within 6 feet.
Kleber can throw the clamps on most bigger wing players. This often comes as a surprise to the players attacking him. This season, he's done exceptional jobs on star wings, holding Pascal Siakam to 6-24 and Jayson Tatum to 1-18. He's rendered Ben Simmons ineffective, and made guys like Kawhi and Lebron work extra hard for their numbers. His footwork defending drives is impeccable.
There's something really quite mesmerizing about the above clip. That hop backwards while sliding to set up-a second jump contest (and often block) is Maxi's signature move.
Here's a graveyard of creators trying to take Maxi 1-on-1:
Further, the Maverick defense is remarkably better with Kleber and KP on the floor. Those two sharing the court yields a defensive rating of 104.3 thus far this season. That would be good for 2nd in the NBA.
The paradox of Maxi is: while he's very effective guarding on the perimeter, it's more impactful to have him closest to the basket, sealing off the middle. Much of the season he has been playing the 4 next to KP and DP. And, although he's been amazing at contesting on the perimeter, it is suboptimal for team defense to primarily match him up out there.
Similar to a team's primary initiator, on defense, the big (or anchor) has an outsized role in affecting results. This is for a few reasons, here's what I wrote a few years back:
Why is C defense over-levered?

Because the C is typically the player that is providing the back stop of rim protection and deterrence, a valuable lid on easy buckets.

What has happened recently is that less mobile centers, who may be acceptable rim protectors, are being forced to defend on the perimeter in offensive initiation actions, whether it's via a pnr or a switch...

...So now, a center has to primarily do twofold:
-Defend the rim adequately, to prevent high efficiency baskets
-Not be a liability on the perimeter and in PnR

No other position has this much pressure and that is why a good defensive center can be so uplifting and a bad one can be so deflating.
Those who think KP is best suited to play the anchor role or that he is our best defensive player are are looking past his flaws, undervaluing Maxi, or both.
KP is a terrific shot-blocker and rim-deterrent, and he's fine in spots as the lone big. But as we saw when he was anchoring the base lineups with Powell, his problem is that he's not so much the fundamental team defender that Maxi is. He is prone to certain habits which weaken the defensive foundation when he is forced to play the anchor role—jumping at pump fakes and letting players get their body into him for fouls and easy baskets. Porzingis also struggles to defend the PnR at times, getting caught in no man's land. Kleber is amongst the league's best in this role.
KP is less-exposed and able to be the best version of himself when he's able to freelance and play safety as a help defender, not having to hold the defensive foundation in tact. Kleber, himself, is a solid shot blocker who can do so without compromising this foundation. The Mavericks should lean in to designating Maxi as the 5 when on the court with KP.
The duo at times reminds me of KD/Draymond frontcourt during the Hamptons-5 runs, with the fundamental interior anchor funneling unsuspecting drivers into over the top shot swatter. Watch these from an early-season game against Denver:
And compare here:
These two do have issues in terms of not having a particularly strong rebounder between them. But, they are able to weather that shortcoming as Luka is a strong defensive rebounder.
Kleber himself is not without his defensive warts. He can look uninterested in protecting the rim for spurts. He's undersized against bigger centers and does not have the feet to keep up with the quickest of players, so there's certainly slippage as a 1:1 guy. But, my biggest peeve with Kleber is that he seems to always get matched up on a smaller perimeter player in transition defense, even when he's playing C; allowing opposing bigs to make quick work of the mismatch. These are things that are tolerable, but could be cleaned up.
While they've struggled as of late, investing time in KP and Maxi together—augmented with the return of Luka's defensive rebounding, and flanked Dorian and THJ on the wings—should be able to return a formidable defense as we round into the postseason. That lineup of Hardaway Jr./Finney-Smith/Luka/KP/Maxi is big and long 1-5, and should be able to do a good amount of switching.
The additions of Michael Kidd-Gilchrist and Willie Cauley-Stein should reinforce that switch-ability and fortify the defense further. At the very least, the bench should get a boost, as we had been playing Justin Jackson at the 4 (next to Delon at the 3, Seth at the 2, and Brunson at the 1 🤢).
I believe that Kidd-Gilchrist will probably get more burn than WCS, serving as a roll-man and wing defender who can play next to both KP and Maxi, and who gives us a second defensive-minded perimeter wing alongside Dorian. MKG's strength will probably play a big factor if we were to come up against the behemoths of the league in Kawhi and Lebron—and for that reason, alone, I'm excited for his signing.
Prioritizing Maxi in the base lineup and at C should reverse the trend on this season's defense. The Mavs might not be able to improve their overall season DRTG into the top-10, but I'll be watching to see if they can play at a top-10 defensive pace post-asb.
---
⛹️‍♂️ Offense
Some corners of Mavs fandom believe that Dwight Powell's rim running and corner tag gravity are an indispensable feature of the offense, if not its lynchpin. Many fear that the early-season offensive prowess has escaped us for good. I think these takes are...misguided.
While Powell's boost to the top line of the Dallas offense is tangible—and he surely served as a more vital cog in the league's top offense while Porzingis worked his way into shape—he eventually became the 4th most important piece of the record-pacing offense.
I suspect that once this team gets a healthy Luka and KP sharing the court again, you'll find the Mavericks offense doesn't take too big of a hit from where it was when Powell went down. It may actually be quite a bit more antifragile against the best defenses.
Here's why:
This team is built around the Luka Doncic pick-and-roll. Powell's use as a ball screener had resulted in otherworldly efficiency for Luka and others. This has led to many over-attributing the success of that combination to Dwight. In fact, Luka really deserves to inherit the lion's share of this credit. LD as the ball-handler in the PnR with any of the Mavs multiple capable screening partners leads to outsize success.
While Dwight is a more dynamic diver, given an extremely powerful first step and quick-twitch leaping ability, Maxi has better hands, a higher and bigger catch radius, and can finish through contact better. He's been excellent as a finisher when used as a ball screener this season.
Porzingis is no slouch himself as dive-man. These non-Dwight screening partners also have more flexibility in the ways that they can finish a play after the screen—each serving as a credible roll man AND popper.
But what's more, these non-Powell screen partners bring a crucial element of versatility that separates them from Dwight. In the instances that a team switches the PnR and instances when they are NOT the ball screener, they provide important spacing—not only by being quality 3-point shooters, but doing so from the big spots, making a potential help defender on Luka drives pick their poison.
Contrast this with the times when a defense would switch a Powell screen, or when the screen and dive does not result in an immediate pass or shot. Powell's role is then to hang around the basket, clogging the driving lane for Luka or other drivers. Or, worse, when Powell is not the ball screener, he is often relegated to the dunker's spot; providing suboptimal spacing with a help defender near the rim.
It might be counterintuitive given his ability to throw passes over the top to the dive man, but being able to go 5-out plays to Luka's strengths. While Luka is excellent with and should continue to utilize a roll-man, the ability to clear out and isolate his man with an empty basket should pay dividends. With an improved body and athleticism, Luka has been absolutely crushing drives to the rim this season. He's 4th in the NBA in drives at 18.5/gm and scores the 3rd most points on drives at 12.1/gm while shooting 76% on attempts from 0-3ft. What's more, Luka grades out as 'excellent' on isolations (84th percentile), per synergy. The Mavs should lean in here and commit to leaving an open basket for Luka to attack.
There are so many more opportunities with an open basket: Luka can post up a small, drive on a big (or frankly, anyone), and slice up defenses with look-away passes to above-the-rim cutters like KP, Dorian, Maxi, and Hardaway. He can probe and kick out to shooters as defenders collapse. 5-out simply puts the defense at a disadvantage. Add Luka to the mix and it's not fair.
---
A side-note on Maxi's individual offense: Maxi has exceeded my wildest expectations for him as an offensive player. He's been a legitimate net positive on that end. After improving from a fringe shooter as a big in his rookie season (17-18) to a decent 35% on 3 attempts last season, he's taken another leap; increasing his 3pt percentage and volume to plus-shooter levels, while adding a bit of versatility, including some ability to shoot while setting quickly.
He's a shade off a 50/40/90 campaign at 46/38/89 on a high volume of 3s (4.2/game). 90% of Maxi's shots are coming from 0-3 ft or 3, enabling a 58 efg%. That's important, because with low usage, a player need at least be efficient to not be a liability playing starter minutes. Maxi has crossed that threshold this season. Through 2.5 seasons in the NBA, he's made a steady progression across the board every year. He's shown more versatility and creativity as his responsibilities as a play finisher have increased.

His dive man versatility has increased as well. He's being used much more in this role than previous seasons. It's not a surprise, Maxi is a plus athlete for his position and has shown above-the-rim proclivity in the past. What I've really been impressed with the way he's made passes and put the ball down on the short roll (more on this in future posts). He's also found new wrinkles in his ability to attack closeouts, finding clever ways to get around bigs, getting up for big space dunks, nifty layups, and garnering fouls; as well as the ability to make reads and find the open man.
---
None of this is not to say that Powell is not a valuable offensive player. He draws more help from corner defenders on his rolls than other Mavs and is generally a more efficient finisher. Its just that his offensive skillset comes with tradeoffs that don't need to be conceded by the other bigs. He's probably more valuable to team offense than Maxi in the regular season; but, imo, that gap is probably overstated, and I'd probably favor Maxi's offensive contributions in a playoff environment.
This is because the ways to mitigate this dynamic roll-man skillset (switching, stronger, quicker defenders) are more prevalent in the playoffs amongst the best defensive teams, making the ability to go 5-out and to open up more versatility in terms of who is or is not screening—as unlocked by Kleber—an increasingly important offensive construct.
I think you'll see the Mavs continue to hold the number 1 offense through the season despite the Powell injury. I also think there's a pretty good chance the Mavs have the best offense in the league from the point of the Powell injury. Rick, Luka, and the rest of the support pieces are that good.
---
Wrapping Up
Maybe I'm wrong. Maybe Dwight Powell was an integral part of this team and I'm misevaluating the damage his absence does in the medium-to-long-term. Mavs fans whose opinions I respect greatly have told me all the same. Or, maybe I'm just too high on Kleber. 15th best defender in the NBA does seem kind of ludicrous.
But I don't think so.
I will admit that MKG/WCS perhaps throws a wrinkle. Given my inability to forecast Rick's lineup choices in the past (the dude has his quirks), I think there's a not insignificant chance that Rick decides to go with MKG or DFS next to KP at the 4 spot. I believe this makes much less sense than starting Maxi. Maxi is a better offensive player and possibly a better defender on the perimeter (though I am quite high on MKG's potential in Dallas in this regard) than both. If Rick is worried about having a rim protector on the court at all times, he shouldn't. It should be quite easy to both start and close with Kleber + KP while also ensuring that one is on the court at all times.
Rick knows Maxi makes sense in any kind of best-5 lineup he can throw out there. He's already shown his hand by preferring to close with Kleber, even when he had started Powell. If he does decide to start and finish with the German Shepherd, the team will need some time to adjust to starting Maxi full time, so don't overreact.
You might read this and say, "Pete, you're just a homer." And you're probably right. But there is definitely something to the idea that the Mavs base lineup is an impact defensive player away from contending. And there's certainly something to the idea that Maxi is an impact defensive player.
Go Mavs.
---
All stats as of 2/12/2020.