Why the Mavericks' 2020 Offseason is So_Damn_Important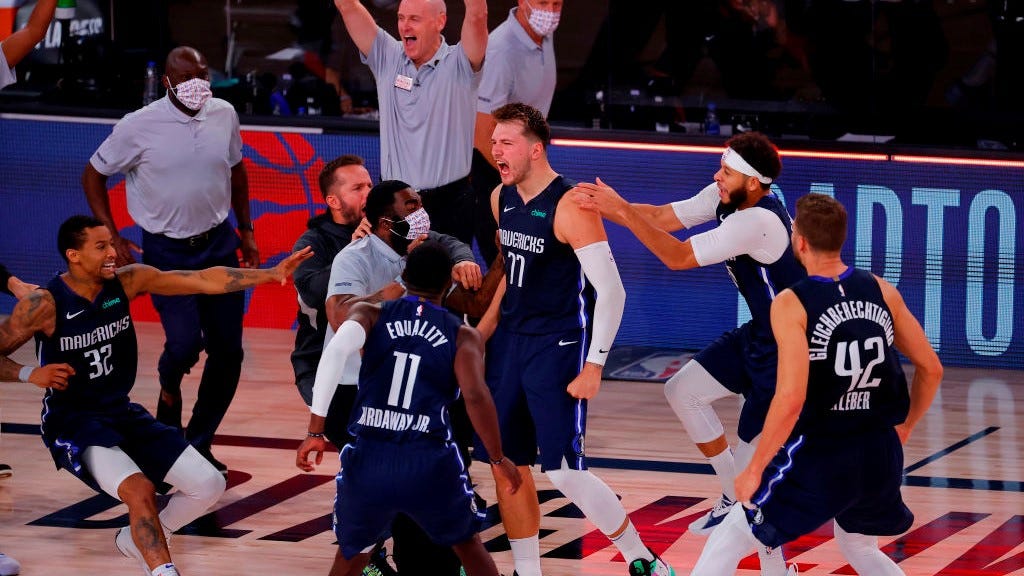 ---
The Mavs took a major leap this season, going from the lottery to a mid-playoff seed. That said, the Mavericks should be even better next season—with or without major roster changes.
For the first time in a long time, MFFLs can feel good about the trajectory of the team. But, despite projected improvements, the team is at least a high-level piece away from contending for a title.
Most of the speculation around the Mavs adding talent focuses on 2021. That summer, Tim Hardaway Jr. and several other contracts come off the books.
However, it seems to me that opportunities in the 2020 offseason are being treated with complacency in the current discourse.
Much of the reason for the focus on 2021 derives from the latest Dallas big-fish free agent target:
The Giannis-to-Dallas clamor is reaching a fever pitch.
Th absurdity of the Mavs FO putting a lot of chips into this plan cannot be overstated. We have seen how well dry powder and superstar chasing has served us in the past.
If the Mavericks were not as close to a championship as they were, this kind of restraint would make a lot more sense.
But, given that the Mavs are a relatively small piece away from a contention-level roster, does it really make sense to forgo a perfectly good offseason just so we can put our roster improvement chips all-in on a Giannis pot with incredibly long odds?
---
I find it useful to think about Luka's time in Dallas in terms of 'eras'.
Eras, in this sense, can be loosely defined as some period of team continuity in roster, coach, style etc.
For example, most recently, the Warriors completed two eras—pre-KD, KD—and have begun a third—post-KD. You could also say that each Lebron destination is an era of its own. Dirk's 20 years in DFW came with its own set of eras (Pre-Star, Nash, Avery Johnson, Kidd, Monta, Lottery).
If we map ahead a bit, the outline of a 10+ year career for Luka with several distinct 'eras' begins to come into frame.
Luka Eras
True NBA greats get no developmental years. For better or worse, Luka is on the clock right now. The goal of Luka's rookie contract era should be a simple, yet daunting one—win an NBA championship.
In pursuit of that goal, however, it is important to understand the dynamics of coming eras and how to best position the Mavs for sustained success. It is also important not to undervalue each year the team has an opportunity to compete for a championship.
Let's take a look at what the 'Eras' of Luka Doncic basketball could look like from a roster management perspective: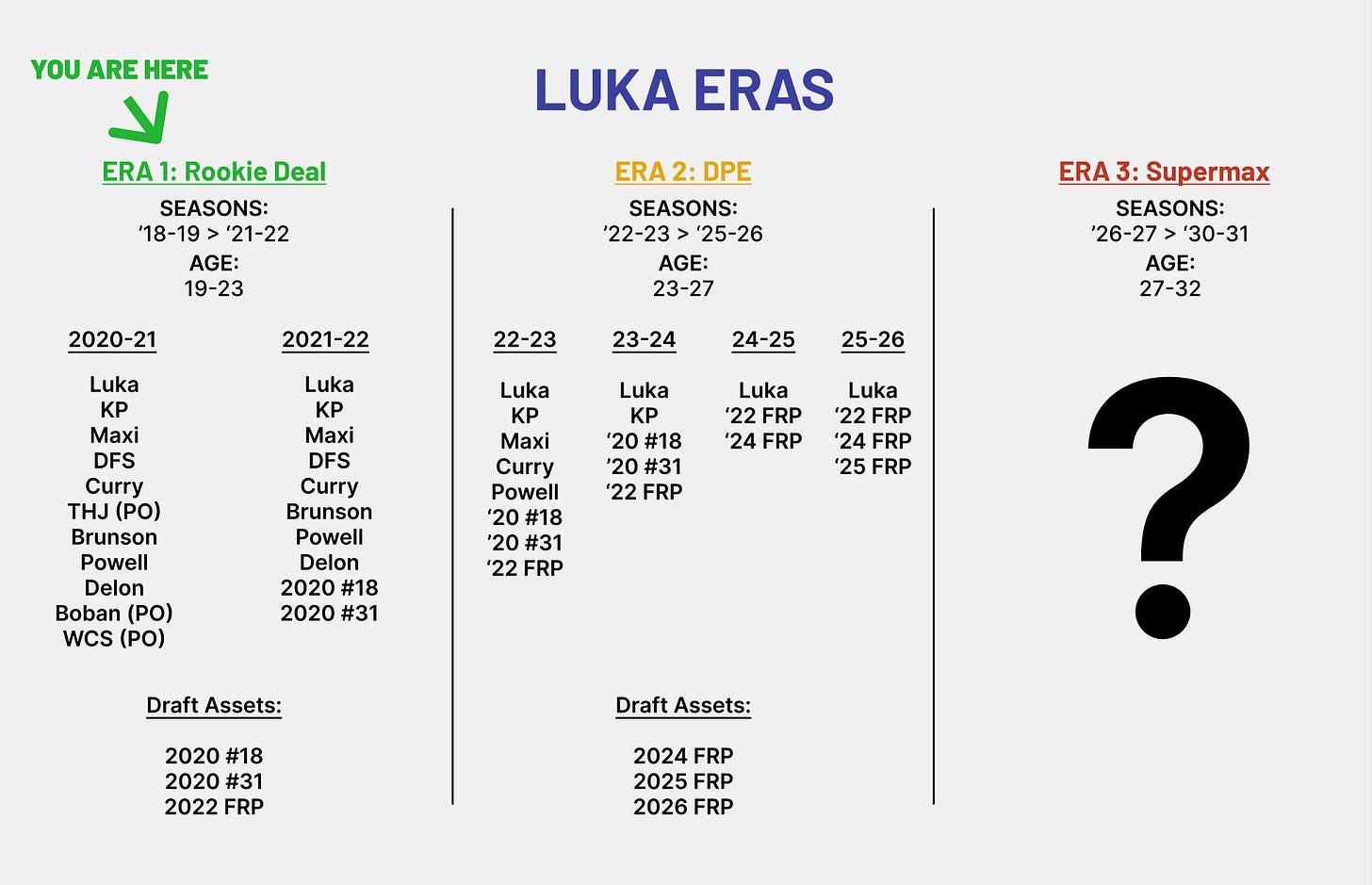 ---
Era 1 in Focus: Rookie Contract
While it seems like the timeline for 21 year-old Luka Doncic is just beginning, life comes at you fast. Having star talent in their youth does not absolve a team from hard decision making; just ask the Pelicans, Sixers, and Bucks of late.
The early, tough decisions the Mavs must face center on building a contention-level team around Luka before his max extension. At that point, Luka will be more correctly compensated for his impact with the 30% designated player max contract.
While most Mavs fans are justifiably excited about the prospect of opening space in the 2021 offseason, it also seems that many may be mis-pricing just how fast it will close—with or without new talent.
At the start of the 2022-23 season, Luka's max extension (which he can sign next summer) is going to hit the books. At that point, Luka and KP will be eating roughly 60% of the Mavs cap.
In addition, the Mavs will have key role players locked in to team-friendly multiyear deals representing another 25-30%.
Filling out the roster with 10-25% of the cap will be an uphill battle. Filling it with the pieces needed to vault this team into the title conversation will be near impossible.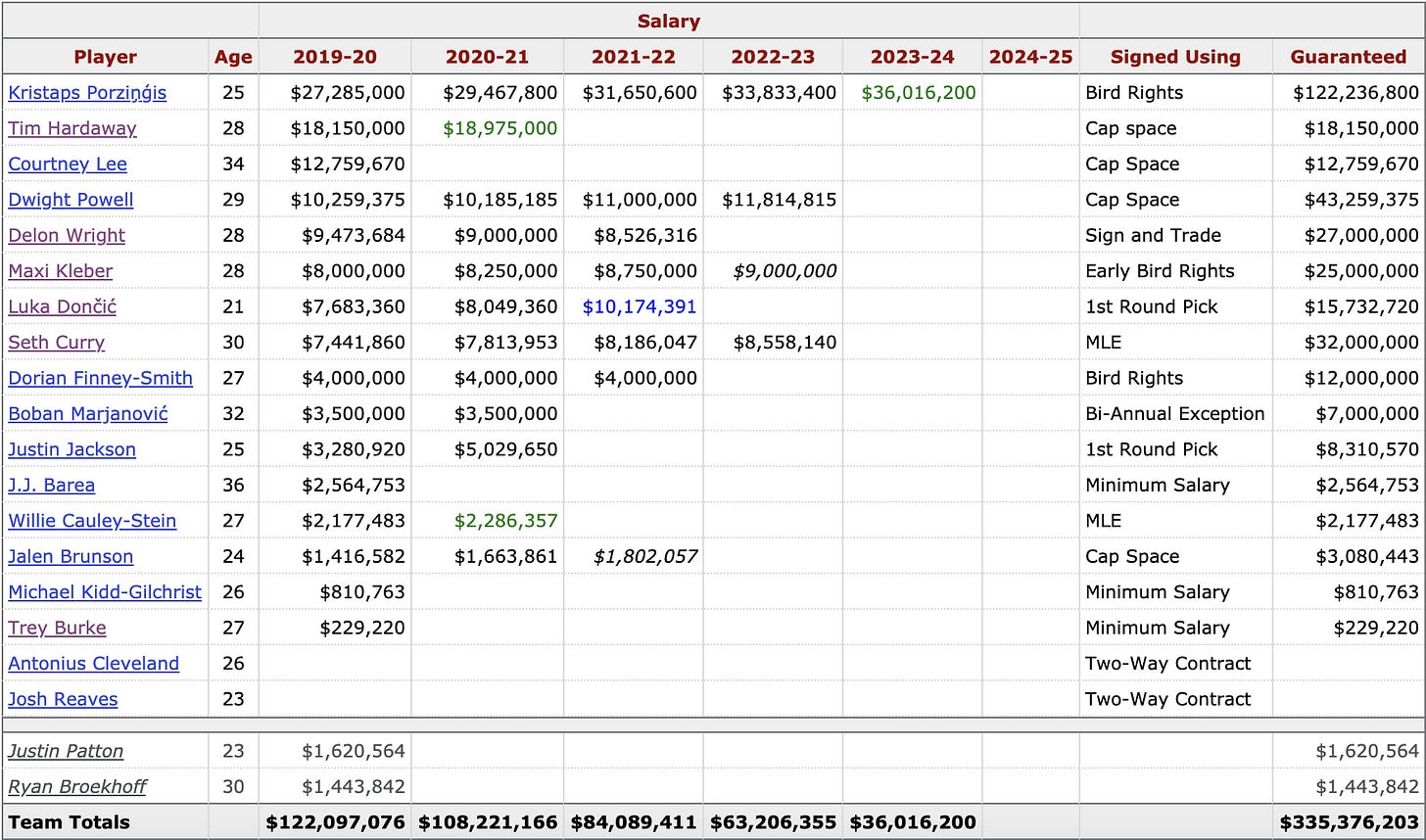 ---
While it seems like the Luka Doncic timeline is just beginning, life comes at you fast
---
Luckily, The Mavs have two offseasons, '20 and '21, before their window for adding significant talent without gutting their depth closes on them for several years.
The Mavs don't want to put all of their eggs in the Giannis 2021 basket without doing due diligence on roster upgrades (especially ones that vault us into a contender) in the coming offseason.
Why? Well, because waiting for Giannis and the spoils of 2021 puts a ton of undue pressure on executing within the tight window of one year of free agency.
This is why the 2020 offseason should be treated with the importance it deserves.
Roster
Let's do a basic inventory of the Maverick stables: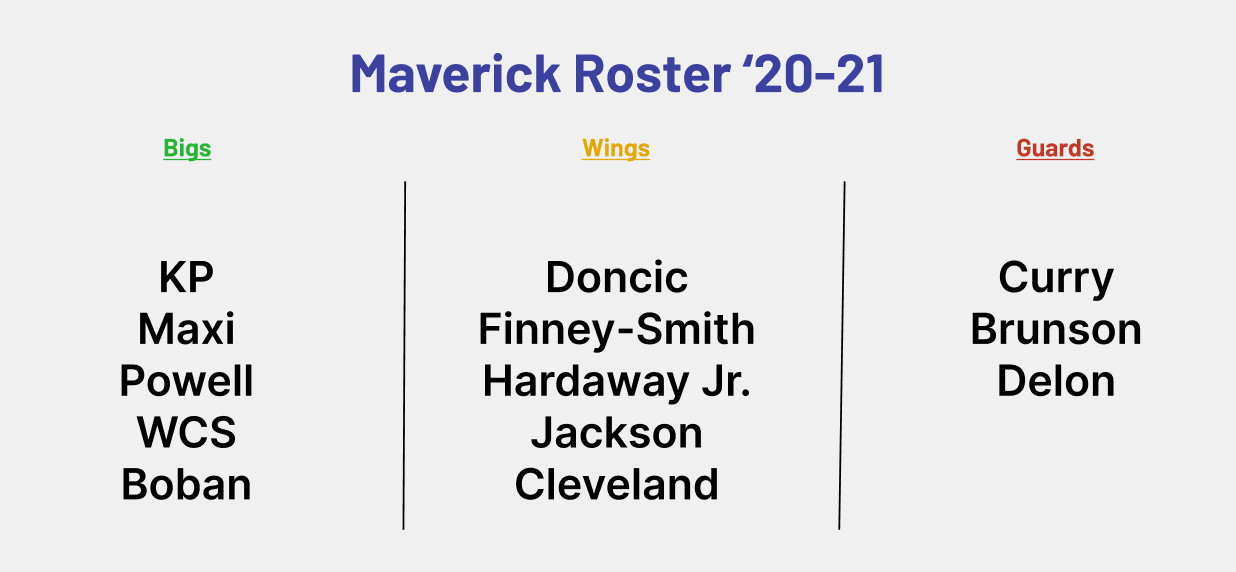 If we look at high-level team needs, the obvious culprit is defense. The Mavs were a misbalanced regular season team in '19-20; sporting the league's most efficient offense and 17th most efficient defense.
The Mavericks are especially light on defensive guards and wings. They can find more balance by acquiring defense-minded perimeter players. But, they must also commit to prioritizing their defensive personnel in the rotation.
With that in mind, It is essential that any significant piece brought in to flank Luka and KP be a two-way player.
Given they have $35m locked up between KP and Maxi ($50m if you include Powell, Boban, and Cauley-Stein) it's highly unlikely the team will look to invest more in the frontcourt—so look for the Mavs to avoid any big attached with a significant price tag. Pour one out for the Ibaka and Millsap truthers (seriously though, these are inferior players to Maxi Kleber…).
In terms of adding personnel, the best archetypal fits are a secondary live-dribble creator (ideally one who can put pressure on the rim) and a two-way perimeter player with plus-shooting or plus-defensive equity.
It would be an added bonus if one or both of these players translated into Luka's next era, or if the Mavs are able to draft starter-level talent for that era in 2020 or 2022.
To recap, before Luka's rookie extension kicks in (2022-23) we'd like to generate:
A two way secondary creator for this and the next era

A two way perimeter player for this and the next era

A draft pick who turns out to be a starter in the next era
Routes
Free Agency
Free agency is probably the most interesting route the Mavs can take to acquire the coveted 'third & fourth guys'. The 2020 class is generally light but has some impact guys that fit the Mavs needs (Vanvleet, Dragic, Bazemore, Grant, Crowder, Temple, Bogdonavic, Ingram, Melton). The 2021 class offers up some interesting non-Giannis opportunities (Lonzo, Oladipo, Richardson, Dinwiddie, Hayward, Porter Jr, Oubre, Lowry, Conley, Isaac, Bridges, Anunoby, Hart, Caruso, Trent).
Trade
Using one or more of their assets (2020 #18, 2020 #31, Brunson, Maxi, DFS), the Mavs could look to upgrade via trade. The Mavs could opt to snatch up veterans who want to compete at a high level (Paul, Lowry) or younger core pieces (Lonzo, Gordon).
To open up more room in free agency, the Mavs might look to attach 18 and/or 31 to dump the contracts of Hardaway, Delon Wright, Justin Jackson, and/or Dwight Powell.
Draft
The 2020 draft is an interesting one as the Mavs could trade one or both of the 18 and 31st picks for salary cap relief or in a package for a useful piece.
Alternatively, the Mavs could look to add a future piece by using or packaging their picks to move up in the draft. Because the Mavs do not have their first round pick in 2021—and because most draft picks after Luka's 1st era will be traded for win-now pieces—my preference is to draft players for the future in 2020 and/or 2022.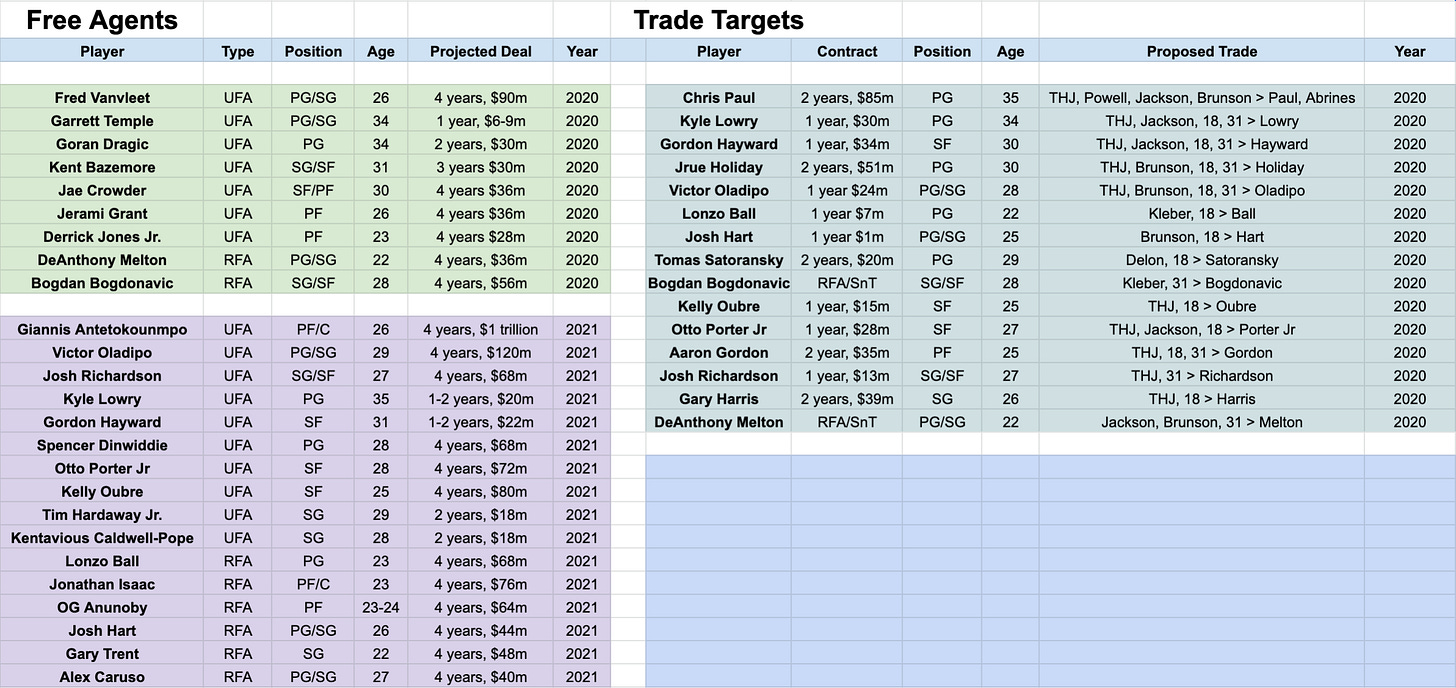 ---
2020 Offseason
The biggest reason I'm an advocate for being aggressive in the 2020 offseason is this:
I don't want the Mavs don't squander a perfectly good opportunity to make a run at a title as soon as next season.
This is not to say that I want the Mavs to make moves that jeopardize their future ability to compete for titles—but many of the opportunities to vault us into contention next year don't necessarily dilute long-term prospects.
The latest murmurs are that the salary cap could come in at a similar figure to '19-20, or around $109m. We'll use that figure for modeling purposes here.
Going in to the offseason, let's see how the Mavs stack up in terms of assets and distressed contracts: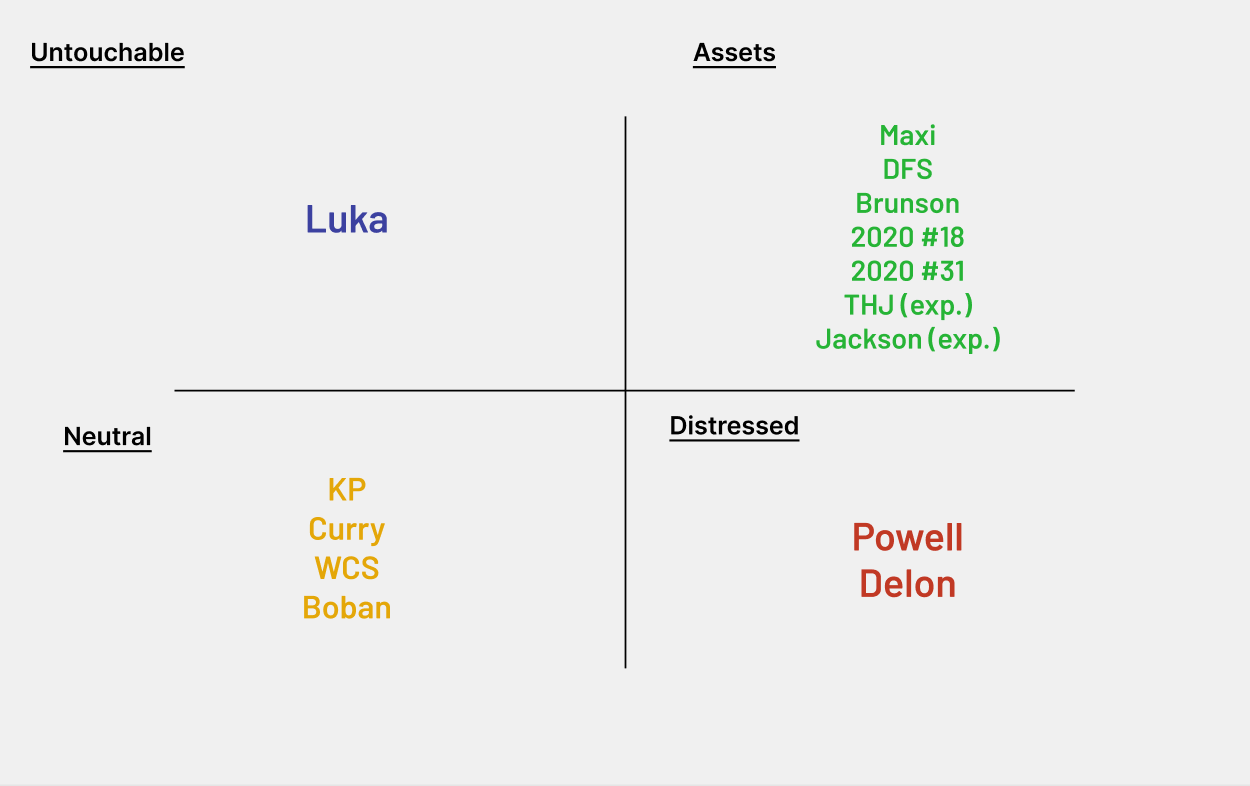 Depending on whether the Mavs were interested and able to move Hardaway, Powell, Wright, and/or Jackson in concert with their FRPs; and whether WCS opts out; the Mavs could have between $3m to 48m + the MLE ($9.2m) this summer to add talent.
While going through the options, a lot of you are going to ask why [player's name] isn't included on the list. They've been filtered out, is why. Here's a handy legend—to be eligible as "worth pursuing for the Mavericks", you must:
Defend at a high level on the perimeter (seriously folks, we need defenders)

Shoot the 3 well and at a high volume

Not be a big
As mentioned, the most significant move the Mavs can make towards winning a championship as soon as next season is adding a (two-way) secondary live-dribble creator. With that in mind, here are the potential moves at the Mavs disposal, ranked by expected value.
---
'A' Moves: Field a Contender in 2020
---
A1) Sign Fred Vanvleet @ $90m/4
For all intents and purposes, the Mavs are free agent players in 2020 if they want to be. There is no excuse for the Mavs not aggressively pursuing FVV this summer.
In my opinion, this is the sole no-brainer unrestricted free agency decision in 2020. Vanvleet is 26, so he fits the Mavs timeline and should not lose much effectiveness on his next contract.
He is also a perfect fit: A secondary three-and-D playmaker who can defend at the point of attack, switch, hit threes off the dribble, drive and kick, and who possesses a championship resume. I especially like the fact that Vanvleet can defend so well up and down the lineup.
Vanvleet would also become the de-facto locker room leader for this team and add a sense of grit and toughness to the team.
The Mavs should pursue an agreement at around $22-23m per over four. If FVV agrees, the Mavs can make room by stretching Tim Hardaway Jr and/or by looking to find a trade partner for he or Delon and Powell's contracts.
---
For all intents and purposes, the Mavs are free agent players in 2020 if they want to be.
---
A2) Draft Hayes and Trade for Paul
Killian Hayes is the type of prospect where I think you gamble on him becoming a core piece during Luka's prime. I'll discuss why I like the idea of drafting a point guard from this class so much in a later article.
If you look at the theoretical package for a guy like Chris Paul—a top 10-15 player in the league in '19-20—its peanuts. The Mavs could probably package Brunson, Delon, THJ's 2021 expiring, and Powell for Paul and filler.
This move would give their depth a hit (though, to be fair, Brunson and Powell missed the playoffs, and Delon garnered DNPs), but replace THJ with Chris Paul and you'd have a hard time convincing me the Mavs aren't title contenders.
Paul's contract aligns well with this iteration of the Mavericks' role players. And the money that the Mavs should be able to open up post-Paul is significant, ~$50m in 2023.
While I am fond of several other point guards in case the Mavs stay put and don't move up for Hayes—Kira Lewis, Tyrese Maxey, Cole Anthony, and Tre Jones—I don't have quite the same confidence mortgaging the near-future on Paul without Hayes.
A3) Trade for a Veteran
If the Mavs are want to be aggressive in pursuing veterans in 2020, the design space for adding talent becomes a lot more interesting.
Guys like Lowry, Jrue, Hayward, and Dipo would require Hardaway, possibly Kleber, DFS or Brunson, and one or more of the Mavs' draft picks.
This is a gamble. Dallas would potentially need to re-sign these guys and/or hope they don't deteriorate too much. Otherwise, we could be looking at a tough cap situation until the end of KP's deal.
A4) Trade for a Like-Age Piece
The Mavs have a number of trade chips: THJ's expiring contract, DFS, Kleber, Brunson, and the 18 and 31 picks in 2020. I think the Mavs would look to package THJ and any number of Brunson and draft picks to go after the players in this grouping.
I suspect this will be the route many Mavs fans prefer. But consider this; the group of players in this list are roughly between the 65th and 100 best players in the league. Fred Vanvleet is a top 50 player, Jrue and Lowry are top 40 players, and Paul is top 15.
Targets & Proposed Trades:
Lonzo Ball, 23 | 1yr $8m (RFA in 2021) [Kleber + Brunson + 31]

Aaron Gordon, 24 | 2yr $35m [THJ + 18]

Josh Richardson, 26 | 2yr $22m (PO in 2021) [THJ + Brunson]

Otto Porter Jr. 27 | 1yr $28m [THJ + 31]

Gary Harris, 25 | 2yr $40m [THJ + 31 or Brunson]

Kelly Oubre, 24 | 1yr $15m [THJ + 18]

Josh Hart, 25 | 1 yr $1.8m [Brunson + 18]

Tomas Satoransky, 28 | 2 yr $20m [Delon + 18]

Bogdan Bogdonavic, 28 | Sign-&-Trade [Kleber]

DeAnthony Melton, 22 | Sign-&-Trade [Delon + 18]
---
'B' Moves: Remain Competitive and Flexible for 2021
---
B1) THJ Opts In, Fill Out Rotation in Free Agency
The key consideration here is that anyone added from this group would need to be comfortable with a one-year deal, because multiyear agreements would eat in to our ability to add talent with cap space in 2021.
The exception to this case is if we were to nab one of the aforementioned players. If we had already used the space on a Fred Vanvleet or Chris Paul, then we can afford to make a multiyear tender at the full MLE ($9.2m). At that point, a lot of these wing names become much more interesting.
Goran Dragic | Would he take a one year deal at the MLE to play with Luka? Tough to tell at this point given the Heat's success.
Kent Bazemore | Baze is exactly what this team needs injected into its second unit. A versatile wing who can shoot, defend, and put the ball on the floor a bit for 20mpg.
Garret Temple | Temple is a sneaky interesting move if he's interested in a one year deal at the MLE. I think he would slot right in to the starting point guard role as an off-ball guy with a bit of size who can defend, shoot, and make some reads as a secondary guy. Age (34) is prohibitive in terms of thinking beyond 2020-21, but a nice stopgap option.
Jae Crowder | Does he take a one year MLE? I doubt it. A multiyear MLE, though, seems like it might be in his range. I do wonder if he still feels shortchanged by his first stint here.
Derrick Jones Jr. | Derrick Jones Jr. is a very interesting young prospect who I think could have success as a roll man next to KP and Kleber. I don't know if he's a guy I would want to assign long term money to given shooting concerns.
Jerami Grant | I think Grant would be somewhat interesting. I just find him too similar to both DFS and Kleber (and probably prefer them both, slightly) to really find him all that valuable. His market may just end up being a multiyear mle.
Bogdan Bogdonavic | I like Bogdan, I really do. Unfortunately, I don't see him fitting in as a 3rd guy type due to a lack of defense; and as a sixth man, its unclear to me that he is an upgrade over Seth Curry. He'll certainly cost more.
I know this move is a Mavs fan favorite but I don't see how he makes much sense. Additionally, Bogey is restricted, so we'd need to make space before we can hand him an offer sheet.
DeAnthony Melton | Melton is the more interesting RFA option in my opinion. Unlike Bogey, I could see Melton being a long term starter next to Luka. He is also 22 to Bogdan's 28 and he will very likely cost less to attain. If the Mavs can clear a little space, I would be making inquiries into his availability at the MLE or perhaps a bit higher over 4 years.


B2) Extend Tim Hardaway Jr.
This option seems highly unlikely. The extension of Hardaway needs to be done with the expectation that his new contract could be dumped "for free" at a moment's notice.
Any contract that makes THJ feel made whole after turning down what is effectively a 1yr/$19m extension would need to include bigger and longer term money than the Mavs should feel remotely comfortable giving him.
The Mavs would need to extend Hardaway at something like $10-11m per year over 3 (at most) to make the contract bulletproof tradable (in the case they need to make space in '20 or '21 for a talent upgrade).
The replacement of Hardaway seems inevitable as his $19m expiring contract represents the best opportunity to upgrade on talent before Luka's extension.
If the Mavs decided to extend Hardaway at a market rate extension based on last year's production (3-4 years at 14-15+ per year), I fear this could be the single most damaging move to the early Luka timeline.
Consider this—because they lack significant draft assets after this year, the Mavs could be stuck in a loop where they are unable to add high-level talent because they cannot move a multiyear overpay to an aging shoot-first guard. This compounds a similarly unmovable Powell deal.
Extending Hardaway to a large deal could mean that the Mavericks are essentially stuck in the same lineup configuration as '19-20 for the next 3-4 years…yikes.
As is, it's highly likely that Hardaway will not be extended by the Mavs.
Draft
If the Mavs are to draft, combining the picks to move forward as much as possible would be beneficial if it meant a shot at one of several players (Hayes, Vassell, Anthony, Kira).
Otherwise, the Mavs should look to draft best non-big available at 18 (with an eye towards Kira, Maxey, Pat Williams, Poku, Tre Jones) and potentially look to add an impact upperclassman at 31 (Bane, Mich St guy, Syracuse guy, Cassius Winston).
As the draft draws nearer, we'll profile the fits for players in the Mavs' range. To receive Skip2MyLuka directly in your inbox, subscribe below:
---
Key Dates
2020 Dates are up in the air, I will update these as they change:
-Draft:
Nov 18 (tentatively)
-Free Agency Begins: TBD
---
Looking Ahead to 2021
As mentioned, most fans have an eye toward 2021. I understand. But, imho if the chance to grab Fred Vanvleet is there, we MUST do it and not think twice.
If we can collectively sidestep the Giannis fever dream, the rest of the contenders don't actually look so great.
Oladipo, 29, is the next best fit and most often mentioned. But Victor has struggled to stay on the court the last few seasons. Does it make sense to lock up $60m in two players who might not be available for Luka when the playoffs come? Likewise, Do we want to pay big bucks for an athleticism-dependent player entering his 30s?
Are consolation prizes like Josh Richardson, Spencer Dinwiddie, Otto Porter, or Kelly Oubre upgrades over Fred VanVleet? I personally don't think so. I could get behind saving the space for Lonzo or Isaac—but they're restricted, so there's no guarantee we'd even be able to land them if we did garner interest.
Second tier RFAs like Anunoby, Hart, Trent, and Caruso could make valuable starting pieces. But, as with other RFAs, there is no guarantee mutual interest would even yield a signing. Last ditch fill-ins like Tim Hardaway Jr and Kentavious Caldwell-Pope may be available, but these outcomes all sound incredibly disappointing in the context of adding central talent for the post rookie-contract Luka era.
This class just doesn't have much for the Mavs unless you're counting on guys like Lebron, Kawhi, Paul George, or Anthony Davis joining the Mavs. I'm not.
Wrapping Up
Consider one more thing—Giannis might not even make it to free agency in any practical sense. If Giannis signs the extension this summer or quickly re-signs with the Bucks, the opportunity cost of not pursuing Fred Vanvleet or a veteran third option becomes much higher.
Lastly, IF Giannis IS interested in the Mavs next summer, making a move to clear space—EVEN if we utilize future cap space in 2020— should be relatively simple.
My assumption is the Mavs could move Porzingis and/or FVV rather easily if need be.
Go Mavs.
---
[ P.S.-You can join a more lively discussion, here, on Mavsmoneyball ]